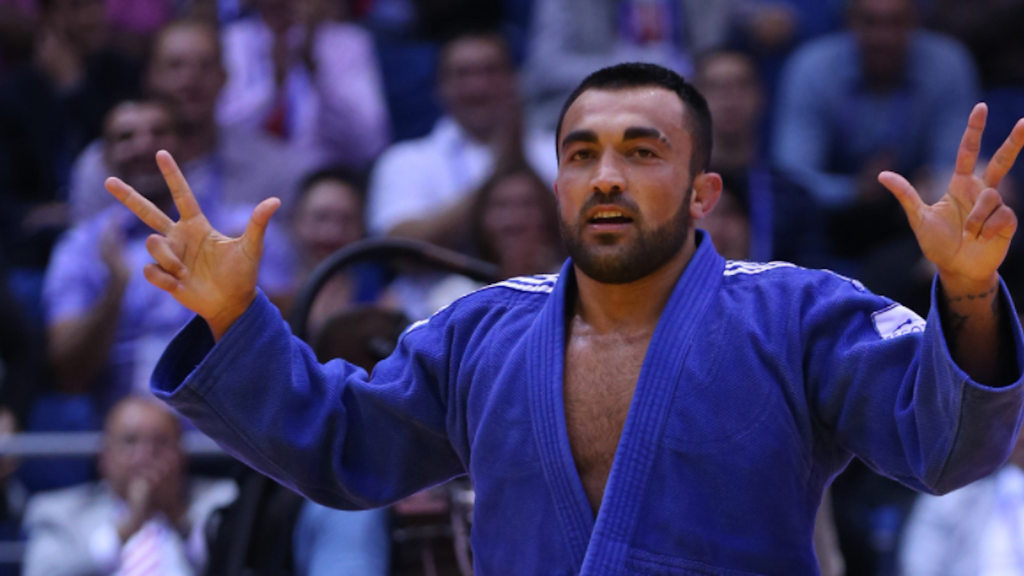 What Was Ilias Iliadis' Best Weight Class?
Many players stay in the same weight class throughout their entire senior competition career. Some would change a category, usually moving up to a higher weight class in the later stages of their career. Few would change more than one category but Olympic and triple World Champion Ilias Iliadis would fight in five different weight categories in the course of his career. 

Iliadis competed in his first world senior championship in 2003 in Osaka, Japan as a -73kg fighter. Still a teen, he very nearly beat the Japanese favorite, Yusuke Kanamaru, by throwing him for waza-ari followed by a pin in the last minute of the match. Kanamaru snatched victory from almost certain defeat by throwing Iliadis in the dying seconds of the match. Still, the superb performance by the 17-year old from Greece made everybody pay attention.

A year later, in 2004, he would become European Champion and Olympic Champion but at the higher weight class of -81kg. He didn't stay at that weight for long though.

By 2005, Iliadis was competing at -90kg. He seemed to have adjusted well in that weight class, winning gold at the prestigious Paris World Cup (pre-cursor to the Paris Grand Slam) and getting silver at the 2005 Cairo World Championships.

Iliadis tried going back down to -81kg towards the end of 2005, competing in the European Judo Union's Under-23 Championships in the lower weight class but he failed to medal there. Perhaps that's what prompted him to go back up to -90kg when 2006 came around.


He didn't medal in any major event that year except the Rotterdam World Cup. Perhaps he was struggling with his weight. Towards the end of 2006, he actually moved up to -100kg for the European Club Cup and in the EJU's Under-23 Championships in November that year, he won the gold medal.

Rather than stick with that weight class though, he went back down to -90kg for the 2007 World Championships and it proved to be a good decision. He made it to the final and got a silver.

Iliadis allowed himself to go back up to -100kg after the 2007 Worlds and stayed at that weight for nearly a year. When the 2008 Beijing Olympics came around, he went back down to -90kg but lost in his first fight.

He experimented yet again with the -100kg weight class at the 2009 Moscow Grand Slam but he did poorly there, losing his first match. After that, he moved back down to -90kg, a category he would stick with for the rest of his competitive career.

In 2010, he won his first world title in judo's homeland, Japan. In 2011 he won the World's again, this time in Paris. In 2011, he took part in the European Team Championships and was drawn against the great Teddy Riner of France in the +90kg division (Iliadis lost). That year, he also took part in the World Open Championships in Tyumen, where he lost to Daniel Anthony Hernandes of Brazil.

He went on to win bronzes in the 2012 Olympics and the 2013 Worlds'. Then, in 2014, he won the World title for a third time.

Iliadis failed to medal at the 2015 World Championships and after losing his first bout in the 2016 Olympics, he retired from active competition. He would go on to compete in a few events like the European Club Cups in 2016 and 2017, as well as the World Open Championships in 2017. Interestingly, his very last international competition of any kind was the World Military Games in 2019, where competed at -100kg. He did not medal in that event.

Although Iliadis fought in a range of weight classes (-73kg, -81kg, -90kg, -100kg and Open) over the years, his best category was clearly the -90kg weight class. This was the one where he won all three of his World titles.
Now you too can learn directly from Ilias Iliadis and gain all of his judo secrets with WORLD CHAMPIONSHIP JUDO BLUEPRINT.  Get your copy here at JudoFanatics.com!