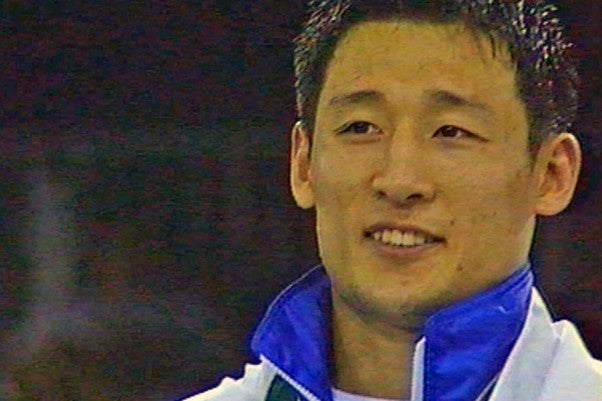 The Jeon Ki-young Story Part 3: 1996 Atlanta Olympics
For the 1996 Atlanta Olympics, many judo fans were still hopeful of yet another showdown between Jeon and Yoshida, who was the defending Olympic champion but this was not to be as Yoshida got thrown for ippon in the first round by Adrian Croitoru of Romania. An overly confident Yoshida should have been more careful as Croitoru had given him a hard time at the 1995 Tokyo World Championships.
Jeon Ki Young's Gameplan
Jeon, always a careful player, did not make the same mistake when facing Mark Huizinga of the Netherlands in his first round. Although he had beaten Huizinga earlier in the year at the Leonding World Cup, he subsequently lost to the Dutchman in the Munich World Cup. So, going into the Olympics they were 1:1 in their head-to-heads.

Although it was a first-round match, it could have easily been the final, with a lot of aggressive action by both players. Jeon scored first with a kouchi-makikomi for yuko but Huizinga struck back with an ouchi-gari, also for yuko. In the end, it was settled by hantei, with the win going to Jeon.

After throwing his opponent from Cameroon in less than 30 seconds, Jeon faced a tougher opponent in the form of the Cuban player Yosvane Despaigne. However, Jeon dispatched him with a seoi-nage/uchimata hyrid that trhilled the crowd. His third uchimata of the day happened in his semifinal match, against Marko Spittka of Germany. All three uchimatas scored ippon.


In the final, he was up against the tall and lanky Armen Bagdasarov of Uzbekistan, who had won many of his earlier matches using the Khabarelli technique. He had difficulty getting the grip for that against Jeon though, as the Korean was a left hander. The fact that they had opposite stances and that Bagdasarov was taller made the situation idea for Jeon to do morote-seoi-nage. And Jeon threw him with exactly that, not once, not twice but three times. The first one scored waza-ari, the second yuko and the third was an ippon. And with that, Jeon was able to add "Olympic Champion" to his resume. For most judokas two World titles and an Olympic gold would surely be enough. But was it enough for Jeon?
 For more from Jeon Ki-Young check out Jeon Style Judo from JudoFanatics.com.  You can get your copy here!