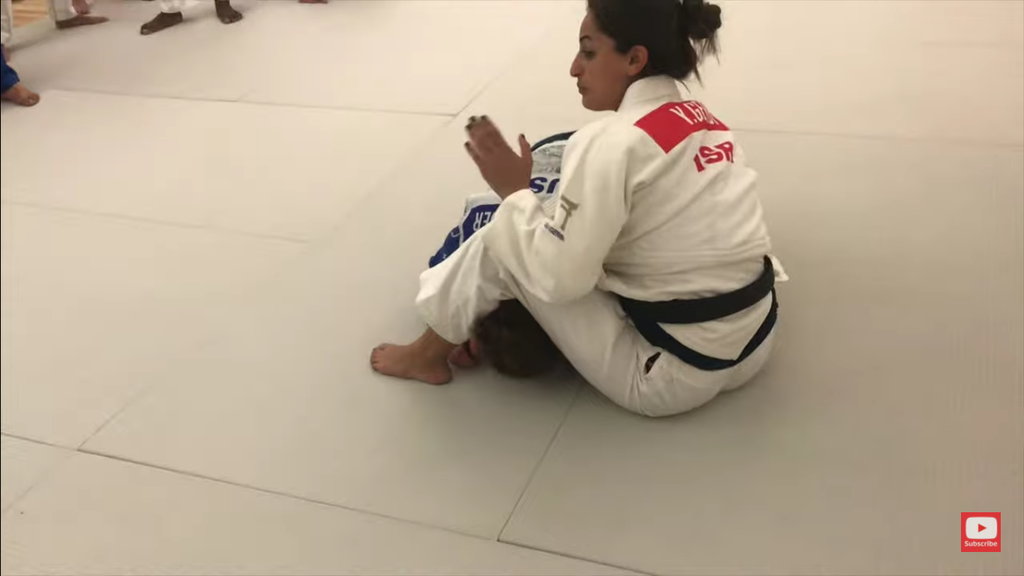 Set Up This Slick Choke With Yarden Gerbi
They'll Never See It Coming...
Attacking the turtle can be difficult if the person has a good defense. While this defensive position can be a source of frustration, if you have plenty of options to attack the turtle you might be able to crack that shell. 
The element of surprise is another crucial factor in attacking the turtle. Since people spend a considerable amount of time defending throws, or guard passes from the turtle they can see a lot of the common attacks coming. Yarden Gerbi has a tactic using her own gi that is a must see. Check it out here below courtesy of Shintaro Higashi's Youtube Channel! 
Yarden explains that she learned this technique from a small Judo club when she was stuck traveling. For her and her coach there are no days off from training! From this small club she learned this cool choke. So after some refinement into her game Yarden has been able to utilize the peruvian necktie, or the more aptly titled Gerbi Choke. She looks to hit this in transition as the opponent starts to turtle. 
Master Your Fundamentals with Yarden Gerbi! Click Learn More!
As soon as the partner hits the mat Yarden offers a distraction with her right hand as her left hand grabs the tail of her own gi. While this is being done she starts to attach herself to her partner's turtle. She makes note of how to grip the gi tightly so you can more easily pass it to your other hand. This pass is made from left to right hand in this case. 
Yarden maintains her balance by staying in a squat position, which is important for the next part. From this squatted position she is able to more easily lean over her partner's turtle and transition her leg over top of her partner's head as she sits down. Now it all comes down to the angle of your body. Yarden points out that angle is everything for this choke to work properly. Staying perpendicular is key to apply the Gerbi Choke. 
How closely you stay to your partner is another factor to consider when applying the choke. To finish Gerbi steps her right leg over the back, extends her legs, and uses her free hand to push her left leg. 
The initial grip that Yarden takes on her lapel is something that can't be ignored. When you grab the lapel it's important that you grab it in a way that it can be used later on. If you grab a clump of gi material and expect to hand it off to your other hand you are mistaken. Think of it like handing off a letter to someone. You need a good length of material below your grip to thread it through to your other hand. 
Once you start adding in all of these details you will have  devastating choke in your tool kit!
Fundamental Judo Mastery By Yarden Gerbi
is a 4-part series that will make a great impact on your game. Yarden has a knack for giving you the details that she personally tested at the highest levels.