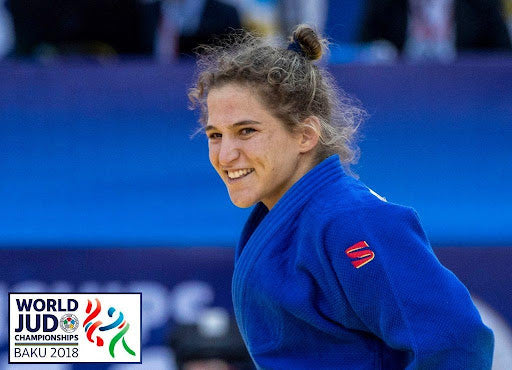 Pareto Retires At 35
Argentinian Judoka Pareto Finishes Career Strong
Argentina's Paula Pareto, who recently retired at age 35, is a classic late bloomer but what a late career she's had. An Olympic gold and a gold, silver and bronze at the World Championships, all in the latter part of her career.

She showed great potential early on, winning an Olympic bronze medal in her second year of international competition, at the 2008 Beijing Games. She was 22.
The Best of Jessica Klimkait is available at JudoFanatics.com!

But it would be another six years before she would get another major world medal. In 2014, at the age of 28, she won a silver medal at the Chelyabinsk World Championships, losing to Ami Kondo of Japan in the final.

The following year, at 29, she won the world title at the 2015 Astana World Championships beating another Japanese, double World Champion Haruma Asami, in the final.
2016 Was A Magical Year for Judo's Pareto

At 30 years old, Pareto was at the peak of her powers. In the 2016 Rio Olympics, she defeated her rival Ami Kondo of Japan in the semifinal and South Korean upstart Jeong Bokyeong in the final to win Argentina's first ever Olympic gold medal.

The Best of Ute Abe can be yours with one click to JudoFanatics.com!
After Rio, Pareto finished her studies, became a medical doctor, and completed her World Championships medal collection by securing a bronze at the 2018 Baku World Championships. She was 32.
This year, at the age of 35, Pareto went for one last hurrah at the Tokyo Olympics this year. She failed to medal but finished a creditable 7th place. What a remarkable career she's had!