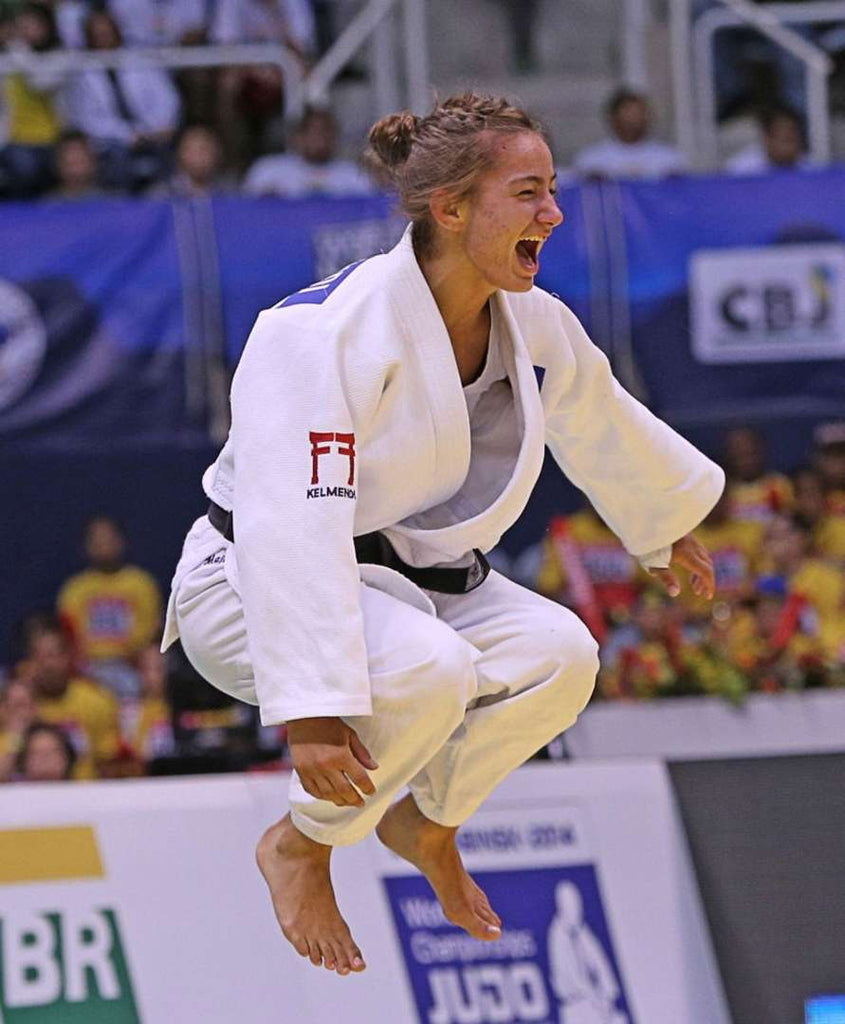 Kosovo's First Olympic Champ Majlinda Kelmendi Retires
Olympic Gold Medalist Kelmendi Retires With Storied Career


Kosovo's first ever Olympic champion Majlinda Kelmendi has announced her retirement. Kelmendi was also a double World Champion, Junior World Champion and four times European Champion. In total she has won an incredible 18 gold medals on the IJF World Tour.
The Best of Hifumi Abe is available now from JudoFanatics.com!

Her international career (which spans 292 matches) began in 2008 when she took part in the Luzern European Cup, where as a -48kg fighter she won the bronze medal. It was a promising start but she wasn't an overnight success. She lost her first match in the 2009 World Championships, and lost her second matches in the 2010 and 2011 World Championships. She had a disastrous 2012 Olympic Games in London when she lost to a relative unknown player from Mauritius.

But what a difference a year makes. In the 2013 World Championships in Rio, she was undefeatable, beating a Japanese opponent in the semifinal and throwing a Brazilian on home ground in the final to win her first world title. The next year she won the 2014 World Championships and two years later, the gold medal at the 2016 Olympic Games. 

That was the peak of her career. She continued competing after that, and was a formidable competitor, winning gold medals at the 2017 Paris Grand Slam and 2017 European Championships. But at the 2017 World's cracks began to show. She lost the semifinal to Shishime Ai of Japan and the bronze medal match to Erika Miranda of Brazil.

She did not compete in 2018 due to injury but when she returned in 2019, she no longer possessed the aura of invincibility. At the 2019 Tokyo World Championships, she lost to Japan's new star Uta Abe in the semifinal. Her condition leading up to the Tokyo Olympics did not look good. She lost in the semifinals of the 2021 IJF World Masters and the 2021 Tel Aviv Grand Slam. At the Tokyo Olympics, Kelmendi lost her first match, against Reka Pupp of Hungary.

Although she didn't exactly retire on top, she does go down in history as one of the most successful judokas ever, having won every major title worth winning. She has also played a big role in popularizing judo in Kosovo.

So, what's next for Kelmendi? Her coach, Driton Kuka, has indicated she will take on some kind of coaching role: "Now that she retires from competition, I want her to be next to me on the tatami because I want her to bring her experience, her knowledge and her fantastic spirit."

Grab a copy of The Best of Jessica Klimkait today from JudoFanatics.com!