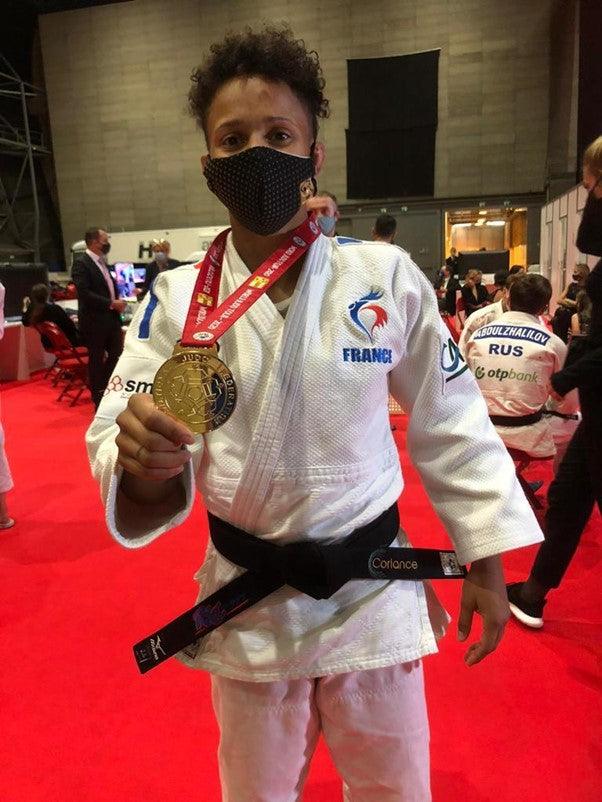 Judo Fanatics Exclusive Interview with Amandine Buchard
Q: Congratulations, with your win in Budapest you are now back to being World Ranked No. 1. How does that feel?

A: Thank you very much. Yes, I saw that I was back at No. 1. But to be honest, I do not care so much about that. Rankings are an indicator of where you stand in relation to your peers but they are not always very accurate. A player can also rise up the ranks because they collect a lot of points by virtue of the fact that they compete a lot more than others.


Q: A lot of people were looking forward to seeing you fight Daria Bilodid but she did not make it to the final. Were you disappointed?

A: Yes of course, I was a little bit disappointed. This was a match everybody was looking forward to, including myself. I like challenges and I like the idea of fighting her in a competitive situation. It's rare that we would get to fight because we are actually in different weight classes but I have done some training with her before.


Q: You won all your matches by ippon. Are you an "ippon-fighter" who always goes for the full point when you fight?

A: I'm not going to lie to you, I like to win my fights by ippon. As for whether I can be called an ippon-fighter, I don't know because I have also won matches by waza-ari and sometimes even through penalties, though that is less common. I like winning by ippon but to me the most important thing is to win the match.

Q: You are a good thrower. You are also excellent in newaza. Do you have a preference, throwing or groundwork?

A: I have to thank my club in Spain, the International Judo Center of Valencia, for making me love newaza, and for giving me a strong and solid foundation in groundwork. Instinctively, I'm an upright player and I like to throw for ippon. But I'm always happy and proud whenever I win on the ground because it's a way for me to thank and honor my club in Spain.

Q: Two of your biggest rivals, Uta Abe and Majlinda Kelmendi were not competing in Budapest. Between the two, who do you find harder to fight?

A: I would have liked to have fought them in Budapest because that would be a really good challenge. It's hard to say who is a harder person to fight. Both are very good fighters but their styles are very different. Abe is very fast and technical. Kelmendi is very strong and experienced. I respect the both of them enormously and I know they are the ones I have to get past if I want to become Olympic champion.


Q: You were locked down in your apartment for a while during the initial stages of the pandemic. When did you start training at the judo center again?
A: I started technical training again in June during an oxygenation training camp in the mountains. I did very little judo there but more "mountain" activities. I started doing randoris again in July at a summer training camp in the south of France. I resumed judo training at INSEP in mid-September.
Q: What's your training been like at INSEP for the past few months?
A: I train twice a day at INSEP, just like before the pandemic hit. However, there are some differences. The schedules for the guys' and girls' trainings have been altered so that we don't mix much. We've also split the tatami area into two, with the lighter players training on one side and the heavier ones on the other. This is the same for the men's team. We must wear masks all the time and sanitize our hands whenever we are not on the mat.  All equipment gets disinfected regularly. We are told to limit contact with our teammates outside of training. It goes without saying we are to limit our interactions with outside people as well. If any player shows any signs of symptoms, they are immediately quarantined and tested before they are allowed to resume training.
Q: Did you feel 100% ready in Budapest?
A: I wouldn't say I was 100% ready. It was strange  fighting again in an international competition. The three days of being locked in my hotel room and the stress of the Covid-19 protocol had drained my energy. And it felt the impact of that during my bouts.


Q: Can you elaborate on the "strange" feeling that you felt?

A: It was a very strange feeling indeed. It almost felt like everything was new and I was discovering things for the time. Waiting in the call room, judogi checks, warming up, seeing all the other athletes and the organizers, hearing the final block music and listening to instruction from my coach before stepping onto the tatami. Of course, I've done this many times before but it felt all new again. It was really a feeling of rediscovering everything again.

Q: How did you feel physically?

A: Technically I was in good shape and could do my techniques.  But I felt tired and slow. I had a hard time getting into the rhythm of things. I think this was due more to the stress of the situation than anything else.

Q: Did you get a chance to watch other fights?

A: Yes, when I was not fighting I got to see some matches and follow some athletes, in particular Distria Krasniqi (-48kg), Orkhan Safarov (-66kg) and Rodrigo Lopes (-60kg). I found them to be very impressive.
Q: Do you know what your next competition will be and when it will be?

A: My next competition will be the European Championship in Prague from 19 to 21 of November.
We hope you enjoyed our exclusive interview with Amandine Buchard.  It has been an exciting time here at JudoFanatics with the arrival of the new American Jiu Jitsu Systems from Travis Stevens and Jimmy Pedro.  Learn the training secrets that helped this powerhouse team on the biggest judo stages in the world.  The Ouchi Gari Encyclopedia is just one of many volumes available and forthcoming.  Check it out now!