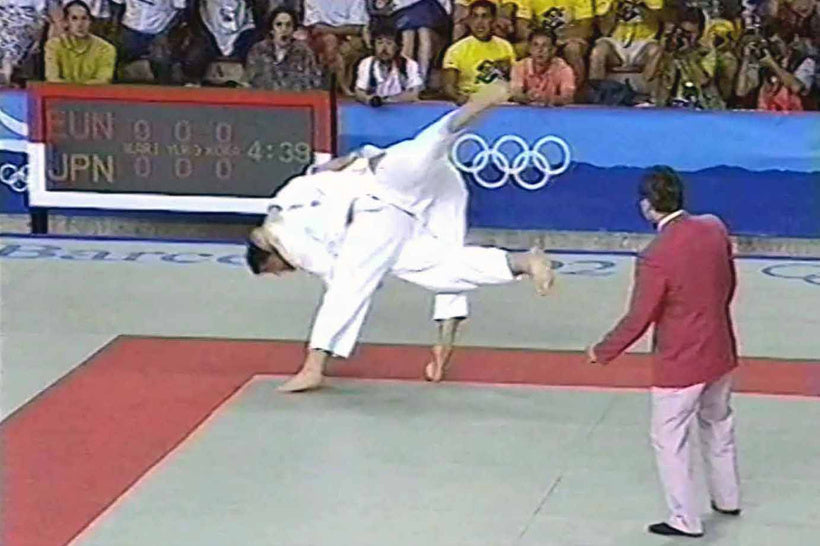 David Khakhaleishvili Dead At 49
JudoInside has reported that David Khakhaleishvili of Georgia has died due to complications from heart surgery. He was a trailblazing judoka who had defeated a famous Japanese champion to win an Olympic gold medal for his country.

At the 1991 Barcelona World Championships, the Open Weight champion was Japan's Naoya Ogawa, who had beaten Khakhaleishvili rather easily. But what a difference a year makes.

By the time the 1992 Barcelona Olympics came around, the Open Weight division had been removed and there was only the +95kg left. The Soviet Union had collapsed and the team sent there wore the code EUN (Unified Team) because it consisted of players from former Soviet countries.

Khakhaleishvili was from Georgia and was the EUN's Olympic pick for +95kg. This must have been a relief to Ogawa, who had lost to Khakhaleishvili's teammate Sergei Kossorotov at the 1991 World's +95kg division. But if he had thought Khakhaleishvili would be an easy opponent, he was in for a surprise.

At the 1991 World's, Ogawa had easily beaten Khakhaleishvili with tai-otoshi for ippon but the Georgian had clearly done his homework and knew exactly how to fight his Japanese opponent. He scored first, using the famous Georgian grip on the belt to hurl Ogawa over for a waza-ari. Next, he took Ogawa backwards with a counter to score the second waza-ari, and with that he won Georgia its very first Olympic gold medal.

That was his finest hour. Unfortunately, he would not get the chance to defend his title four years later. He was in Atlanta for the 1996 Olympics but on the day of his event, he either took the wrong bus or went to the wrong venue. By the time he realized he was at the wrong place, there was not enough time to make the weigh in. As a result, he was disqualified from the competition.

Khakhaleishvili retired in 1999 after amassing an Olympic gold medal, two World silver medals and two World bronze medals. He was one of Georgia's greatest judokas.